The first stop on our cruise was somewhere we had never been to before: Aruba. We were excited to visit the Happy Island & her beautiful beaches. We decided to spend the day on Palm Beach, where many of the island's hotels are located, & were excited when the Occidental Grand Aruba offered us the chance to spend the day with them. We took the bus from the cruise terminal to the hotel, which couldn't have been easier & was very cost effective ($4 per person, round trip – tickets can be purchased right at the ticket booth near the cruise terminal).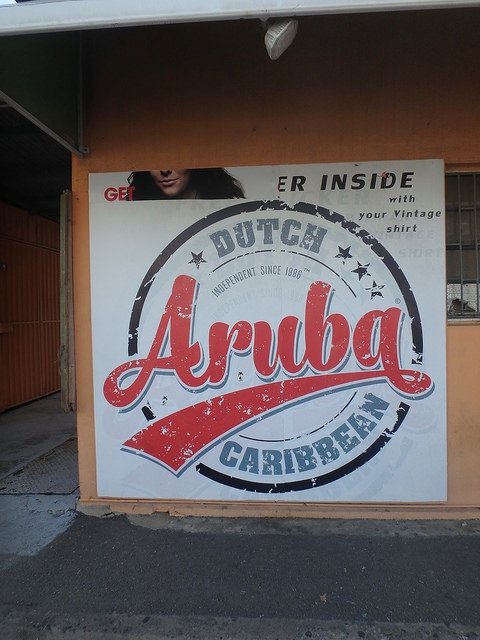 (C) Christina Saull – All Rights Reserved
As we walked up the driveway to the Occidental, B & I both commented how nice it was. While the outside design might look a bit dated (the hotel was built in 1975), the furnishings & public spaces are top notch. The hotel was recently purchased by Barcelo & they're busy making many improvements to this already nice hotel – their new casino & lobby will be done in July, with all guest rooms & public spaces done by the end of the year. We were able to poke our heads into a new room & the design was clean & fresh & the bathrooms modern & gorgeous!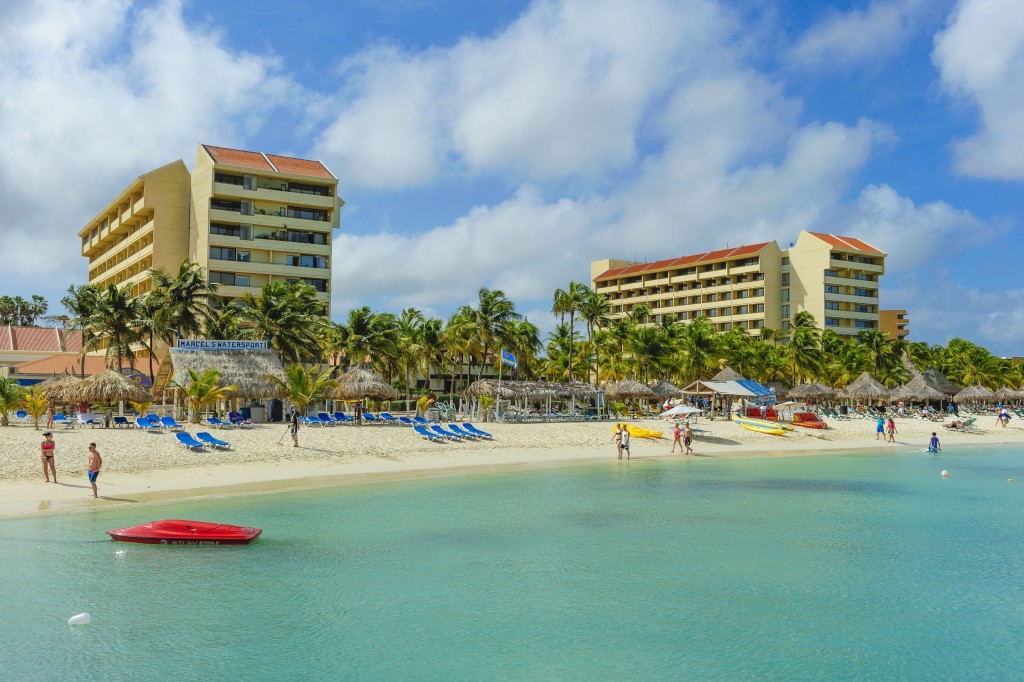 photo provided by Barcelo – but it really does look like this!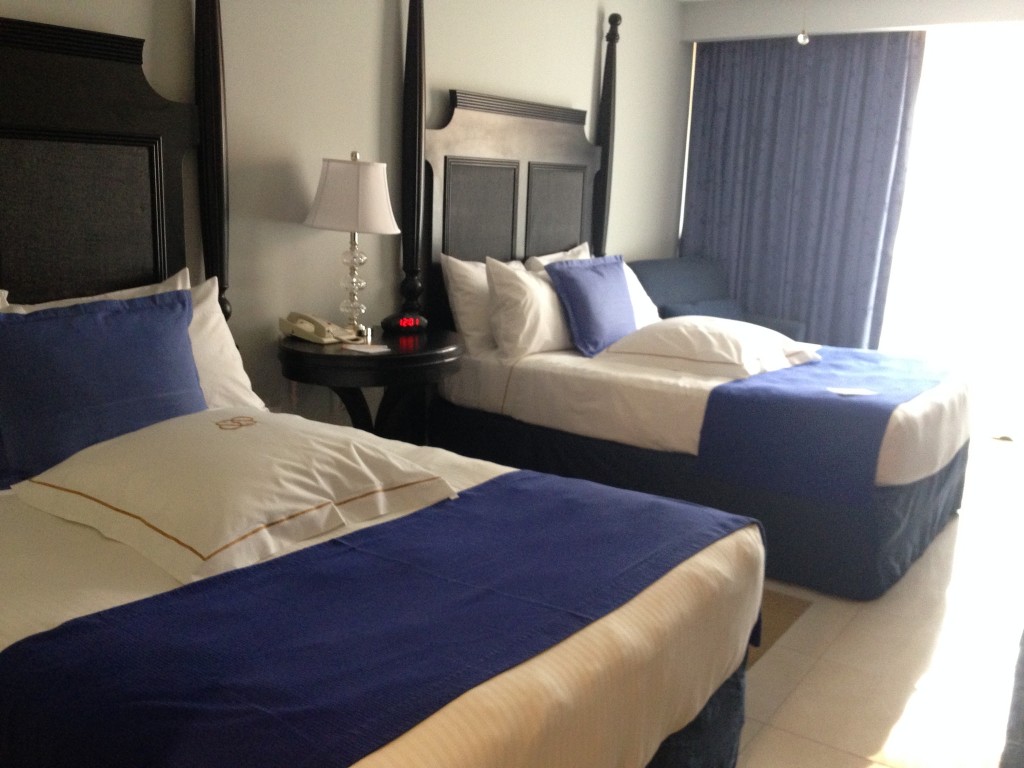 a newly renovated room
(C) Christina Saull – All Rights Reserved
We spent a few hours on Palm Beach, under a palm thatched hut, reading & relaxing in the shade & taking turns hitting up the beach bar (one of the nicest things about their all-inclusive package for guests is that drinks are included!). The beach was crowded & lounge chairs in the shade were definitely a bit limited, but once we got settled, things were pretty much perfection.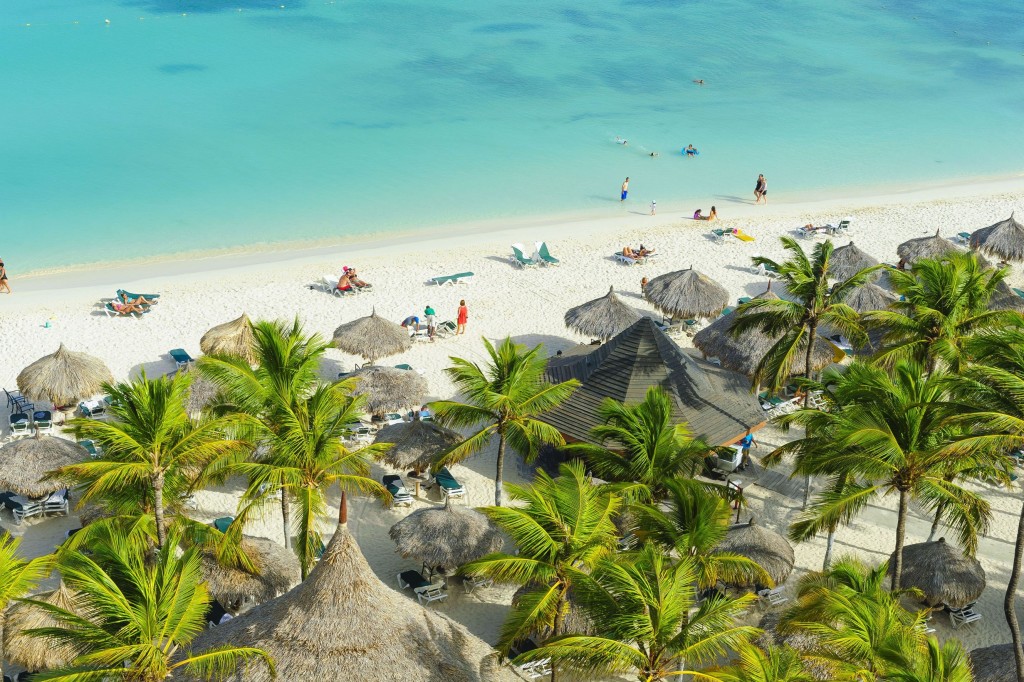 thatched roof huts & a beach bar = pretty much perfection
photo provided by Barcelo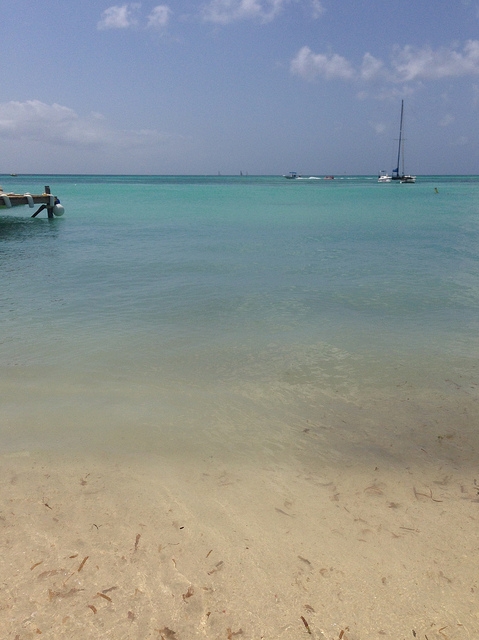 Palm Beach loveliness
(C) Christina Saull – All Rights Reserved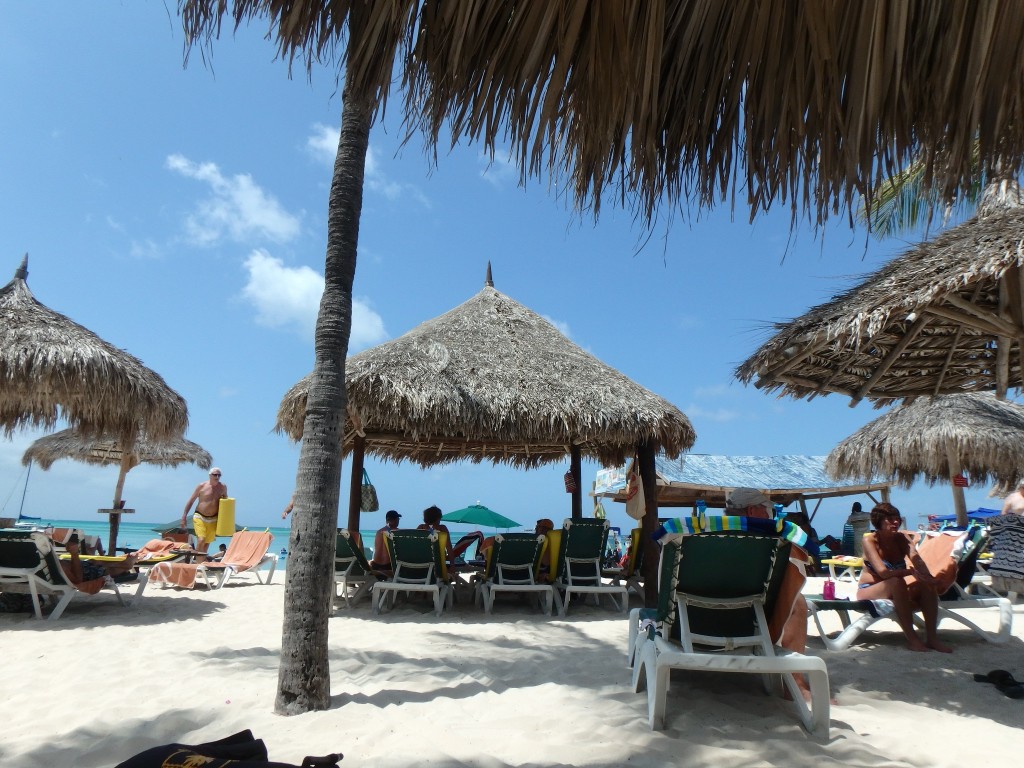 the view from my lounge chair
(C) Christina Saull – All Rights Reserved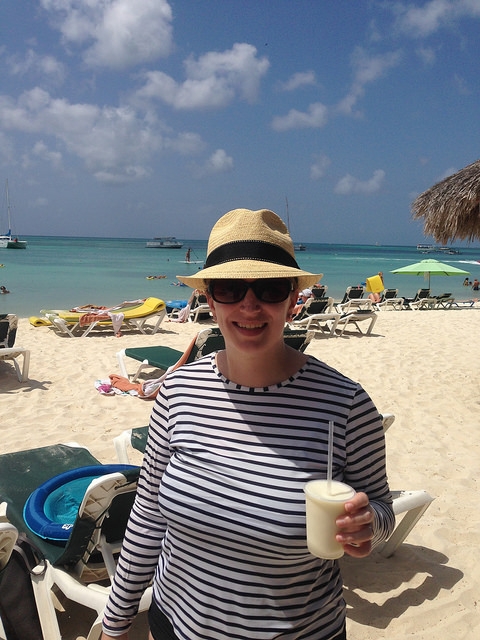 cheers!
(C) Christina Saull – All Rights Reserved
Also included in our daypasses (& complimentary for resort guests) were floats & non-motorized water sports. I think gently bobbing along the turquoise blue waters off of Aruba might be my new happy place.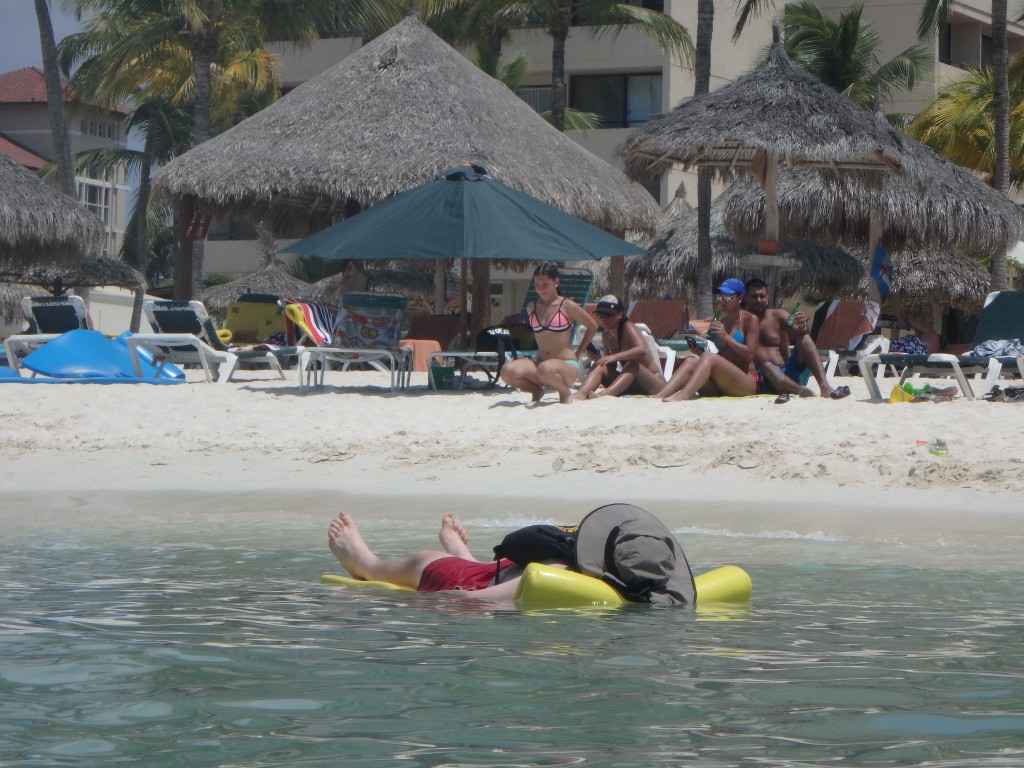 B in his happy place
(C) Christina Saull – All Rights Reserved
We enjoyed lunch at the resort's buffet restaurant, Palm Buffet, which was well designed & not crowded at all. Highlights of lunch included fresh grilled grouped & chocolate mousse. The salad bar was also plentiful & there's also a make-your-own pasta station. In addition to the buffet, there are also on-site sushi, Mexican & Italian restaurants which are open for dinner.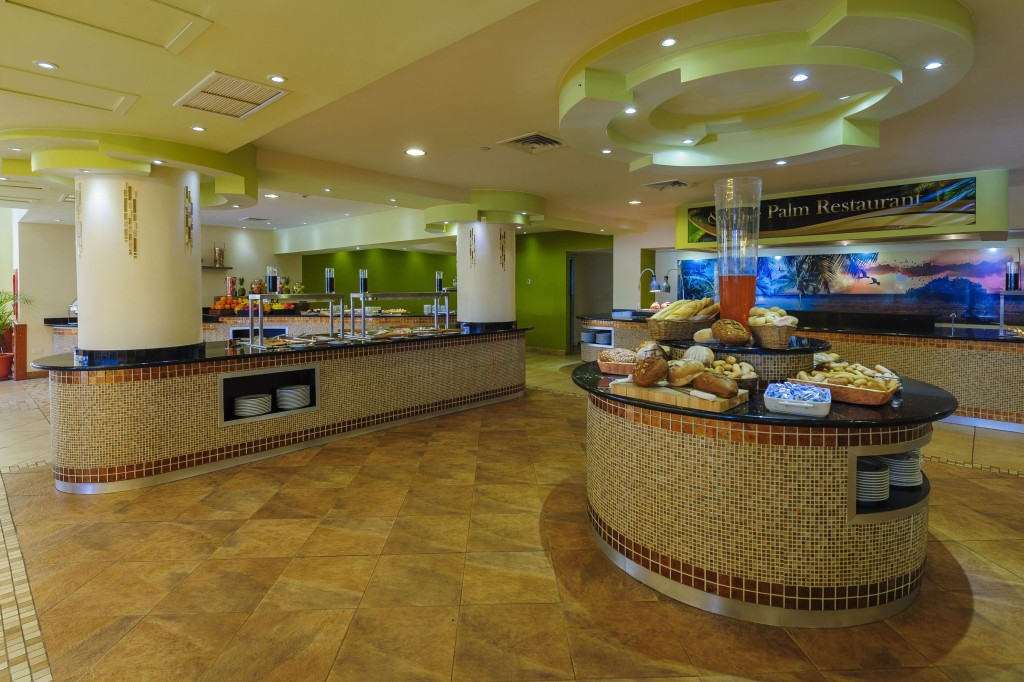 Palm Resatruant Buffet
photo provided by Barcelo
After lunch, we moved to what I would call the Occidental's gem: their sprawling pool complex. We found chairs in the shade & hopped in to float & relax. The pool bar serves up the same great drinks as the beach bar & we enjoyed sitting on the large "boulders" in the pool, sipping fruity rum drinks.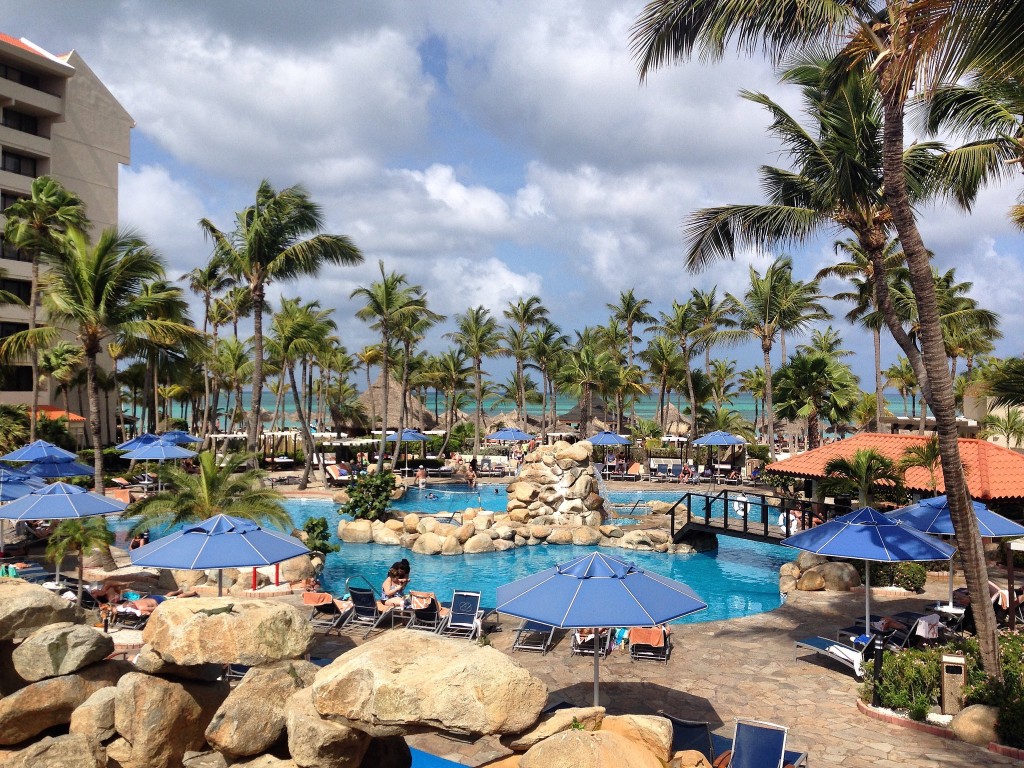 (C) Christina Saull – All Rights Reserved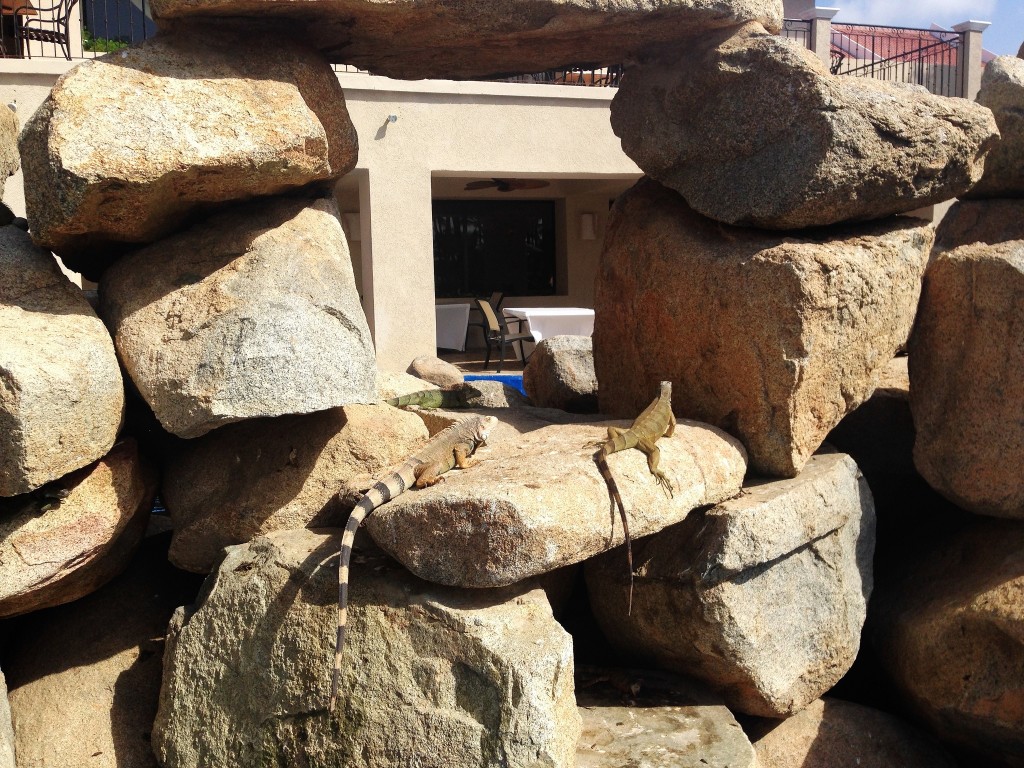 resident iguanas!
(C) Christina Saull – All Rights Reserved
Soon enough, it was time to pack up for the day & head back to the cruise ship. Catching the bus back was easy (but leave yourself plenty of time, as the bus did get very crowded & skipped a few stops). Before getting back on board, we had time for one last beverage from a watering hole right next to the port – one of our favorite post-excursion traditions. We caught a famous Aruba sunset as we prepared for sail away & left the island wanting more. We will definitely be back!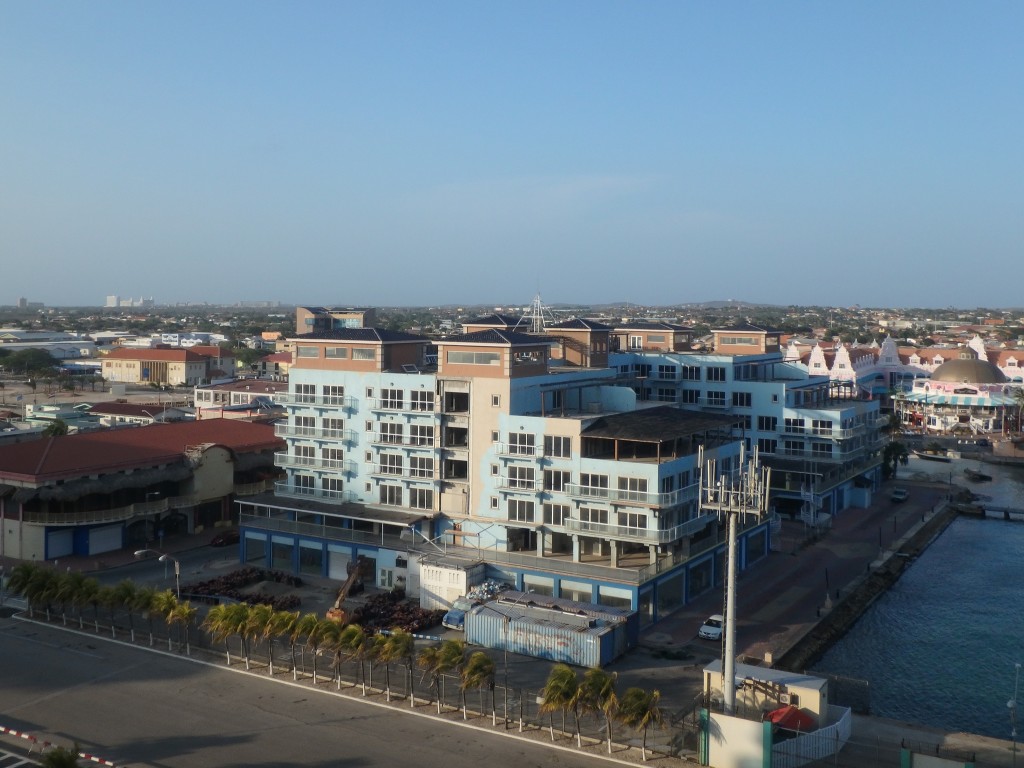 view from the cruise ship
(C) Christina Saull – All Rights Reserved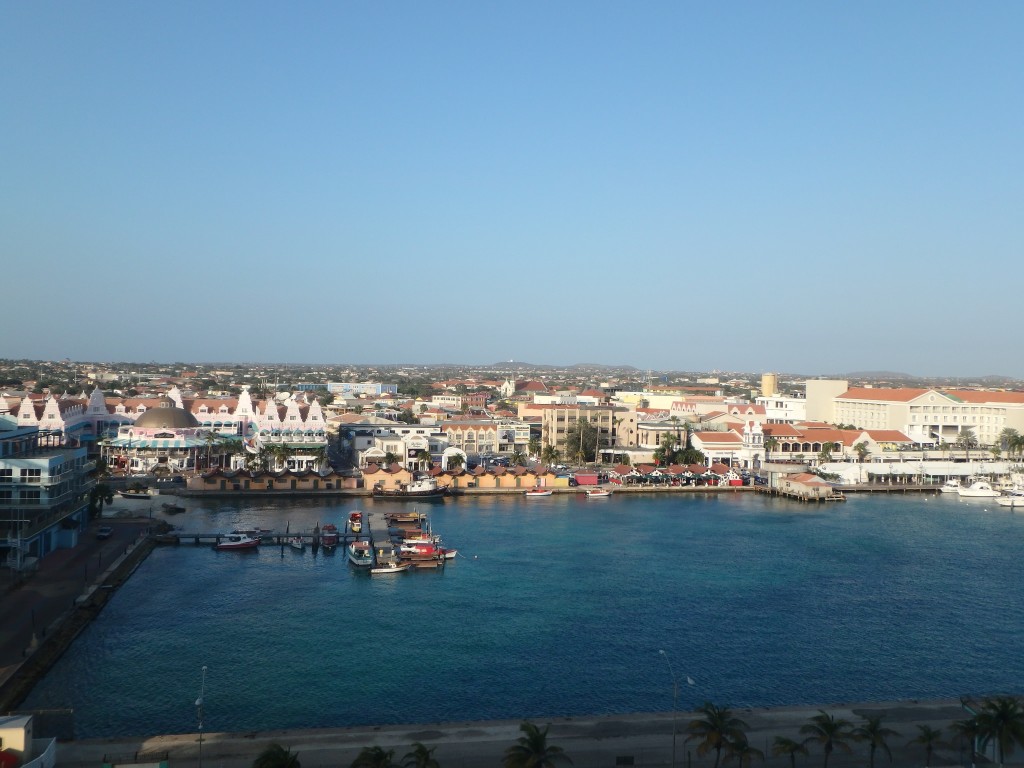 view of Oranjestad, Aruba
(C) Christina Saull – All Rights Reserved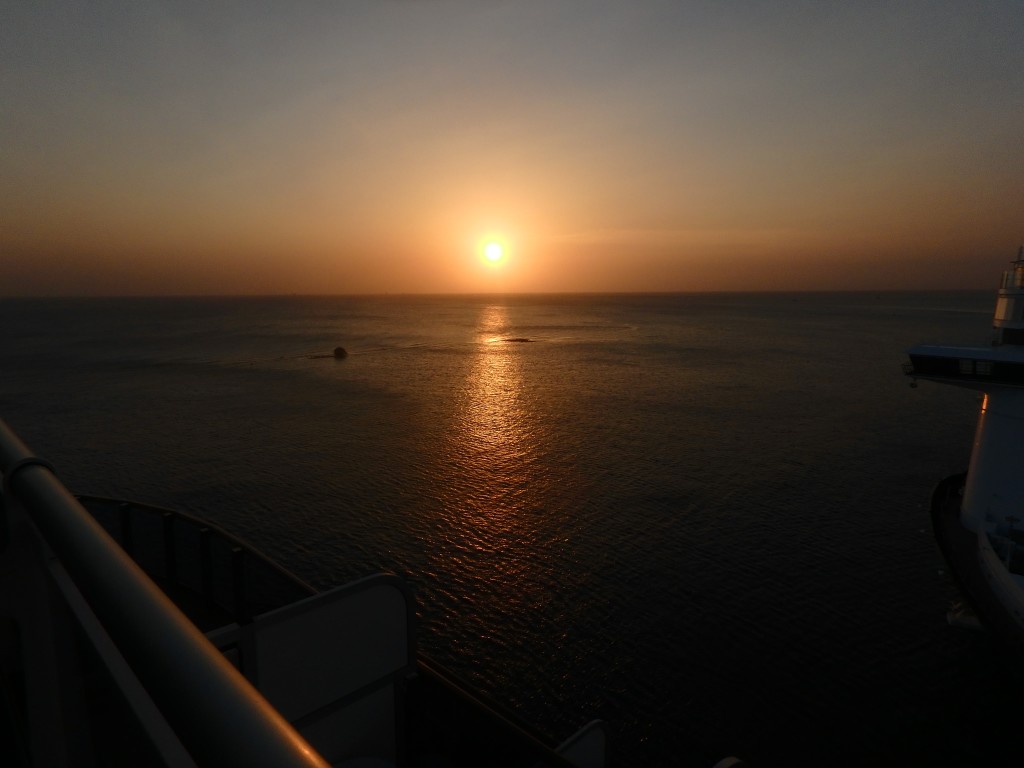 stunning Aruba sunset
(C) Christina Saull – All Rights Reserved

Know if you go….
– The Occidental is definitely family friendly, so if you're a DINK like me, the Royal Club is where you want to be. This exclusive, adults-only area of the hotel has rooms that are all king-sized beds & junior suites. Guests in this area get their own concierge desk, dedicated restaurant offering three meals a day, lounge & complimentary wifi. Staying in this part of the hotel is definitely an upgraded experience & comes at only a small price difference. A quick search of rooms over Memorial Day weekend 2016 gave me regular, non-ocean view rooms for about $500 a night & rooms in the Royal Club for $649 per night.

– Occidental's location on Palm Beach is dynamite. Not only do you have access to a long stretch of gorgeous beach, off the beach is access to a number of shops & restaurants, all within walking distance.

– All beaches in Aruba are public beaches & all the hotels in the area near the Occidental (Hilton, Hyatt, RIU) are connected via a boardwalk, giving guests access to a number of amenities

– Many visitors to Aruba are American & they've seen a huge up-tick in visitors recently, largely due to an increased number of direct flights from major U.S. cities. In addition, Americans visiting can clear U.S. Customs in Aruba, which is a huge help in speeding things up once landing back at home. There are currently flights twice a day from MIA, & once a day from JFK, ATL, BWI, MCO, HOU, FLL, EWR, IAD, PHL & CLT – that means if you're on the U.S. east coast, you have no excuse not to visit Aruba!

Note: Our day at the Occidental Grand Aruba was provided complimentary of Barcelo, but all opinions here are mine – this was a serious great resort! We look forward to a return trip to the Happy Island & to check out the Occidental post-renovation.

The post A day on the beach in Aruba appeared first on My View from the Middle Seat.

christina